51 Spencer Street Carlisle. CA1 1BB
Basic Economical Style Dentures
Our entry level of denture is designed for patients who want a higher quality denture than an NHS denture, but at a more economical cost.
For these dentures we use Natura Teeth from Schottlander. Although these teeth have fewer colour layers built into them compared to Enigma or Phonares they still look incredibly lifelike.
Natura anterior teeth use skilful shading, internal mamelon effects and a subtle response to changing light conditions to achieve their remarkably lifelike appearance. Natura posterior teeth, with natural translucent cusps, are exceptionally strong and durable in the mouth. Natura's innovation, has been recognised by receipt of a Queen's Award.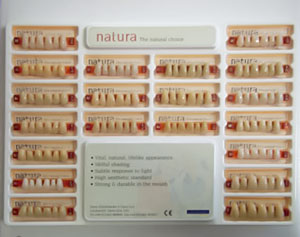 Time Scale 4-5 Weeks
Guarantee: 1 Year
Costs – £380
Time Scale 4 Weeks
Guarantee: 1 Year
Costs – £590